Blockchain > Token
Top 3 Blockchains to be Considered for Token Development
November 8, 2022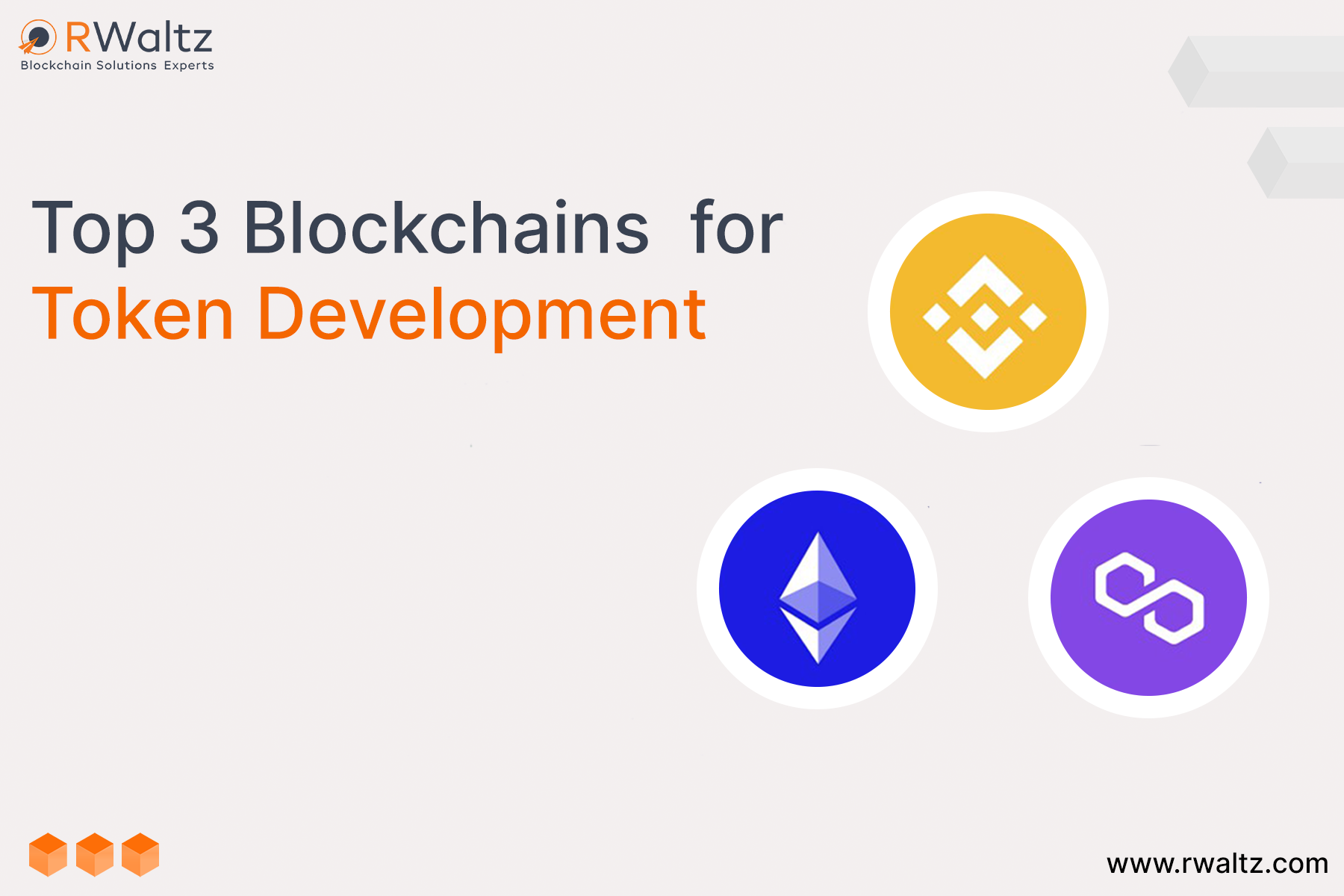 It is almost a decade now; the tech world has acquainted us with Blockchain technology. Blockchain solutions have turned more popular among industries and start-ups. Blockchain development has its use cases in healthcare, pharmaceutical, logistics, trading, real estate, finance, retail, and much more. Decentralization, security, and transparency have laid the foundation for the success of Blockchain technology.
With Blockchain, tokens have also turned out to be a vital asset in the crypto space. Let's dive in to explore more!
What Do You Understand by Token Development?
Token refers to a digital asset that has a specific value and can be used for exchanging or services. Token development is defined as a process that comprises a set of sequential stages to design and develop crypto tokens on various Blockchains. With the evolving Blockchain networks, token development is getting complicated with feature-rich tokens being launched in the market.
Let's explore the Blockchains to be considered for Token Development!
Top 3 Blockchains to be Considered for Token Development!
Ethereum refers to a decentralized Blockchain that builds a peer-to-peer network. Its native currency is Ether and its token standard is ERC (Ethereum Request for Comments). There are different ERC token standards like ERC 20, ERC 721, and ERC 1400.
Here's why you should choose Ethereum for Token Development:
Tokenize Assets: Ethereum offers easier tokenization by enabling businesses to fractionalize the earlier monolithic assets like real estate, unlock new incentive models, and expand products.
Rapid Development: The developers can quickly build and administer private Blockchain networks through an all-in-one SaaS platform such as Hyperledger Besu, instead of building the blockchain from scratch.
Decentralization: The decentralized nature of Ethereum ensures there is no central authority to govern the token, thus ensuring more transparency and security.
Binance Smart Chain (BSC) refers to the advanced version of the Binance chain. It was developed to overcome the drawbacks of the Binance chain. It is defined as a unique Blockchain that is compatible with Ethereum Virtual Machine (EVM). This makes it easier for developers to build ETH-based applications on BSC.
Here's why it can be the best match for token development:
Cross-chain Compatible: The dual-chain architecture of BSC ensures hassle-free transfer of assets from one blockchain to another which is perfectly suitable for token development.
Staking: BSC can handle ultra-fast transactions of crypto assets ensuring easier and quick staking of coins, which has led to the growing prevalence of BSC for developing tokens.
BEP-20 Token Standard: BSC offers a BEP-20 standard for token development, which is an extension of ERC-20. This BSC token standard offers multiple functionalities like token holder control, balance recovery, token transfer, etc. which makes it one of the preferred Blockchains.
In 2017, the Polygon network was created to overcome the several complications faced like transaction speed, cost, etc by a variety of Blockchains. Polygon offers the benefits of a combination of Blockchains and helps developers to build user-friendly DApps. This platform was initially titled, Matic.
Let's dive in to explore why Polygon should be preferred for token development.
Green Blockchain Network: Polygon has gone zero carbon since 2017 and has turned out to be an environment-friendly blockchain.
ETH Compatible: Polygon is ETH compatible, which makes it easier for developers to deploy applications on polygon just with slight advancements.
Transaction Speed: Polygon offers high transaction speed with instant transactions as compared to other Blockchains.
RWaltz- Pioneers in Blockchain development for tokens!
We at RWaltz are pioneers in developing tokens on all Blockchains. We have in-house Blockchain experts working on Blockchains like Ethereum, BSC, Polygon, Corda, Solana, Polkadot, Tron, and EOS.
If you are looking for a Blockchain development company, with expertise in developing tokens on these Blockchains, we can be the right choice for you. Hurry up! Launch your own token with the Blockchain experts.
Wrap Up
Hopefully, the above article has enlightened your knowledge of top Blockchains for token development. Apart from Ethereum, BSC, and Polygon; a variety of Blockchains can be used for developing the tokens. The Blockchains like Corda, Solana, Polkadot, Tron, etc can also be the best match for your token. Do your own research and develop your token on the best Blockchain that suits your requirements.