Crypto > Token
Best Time to Launch a Crypto Token: 2024
September 29, 2023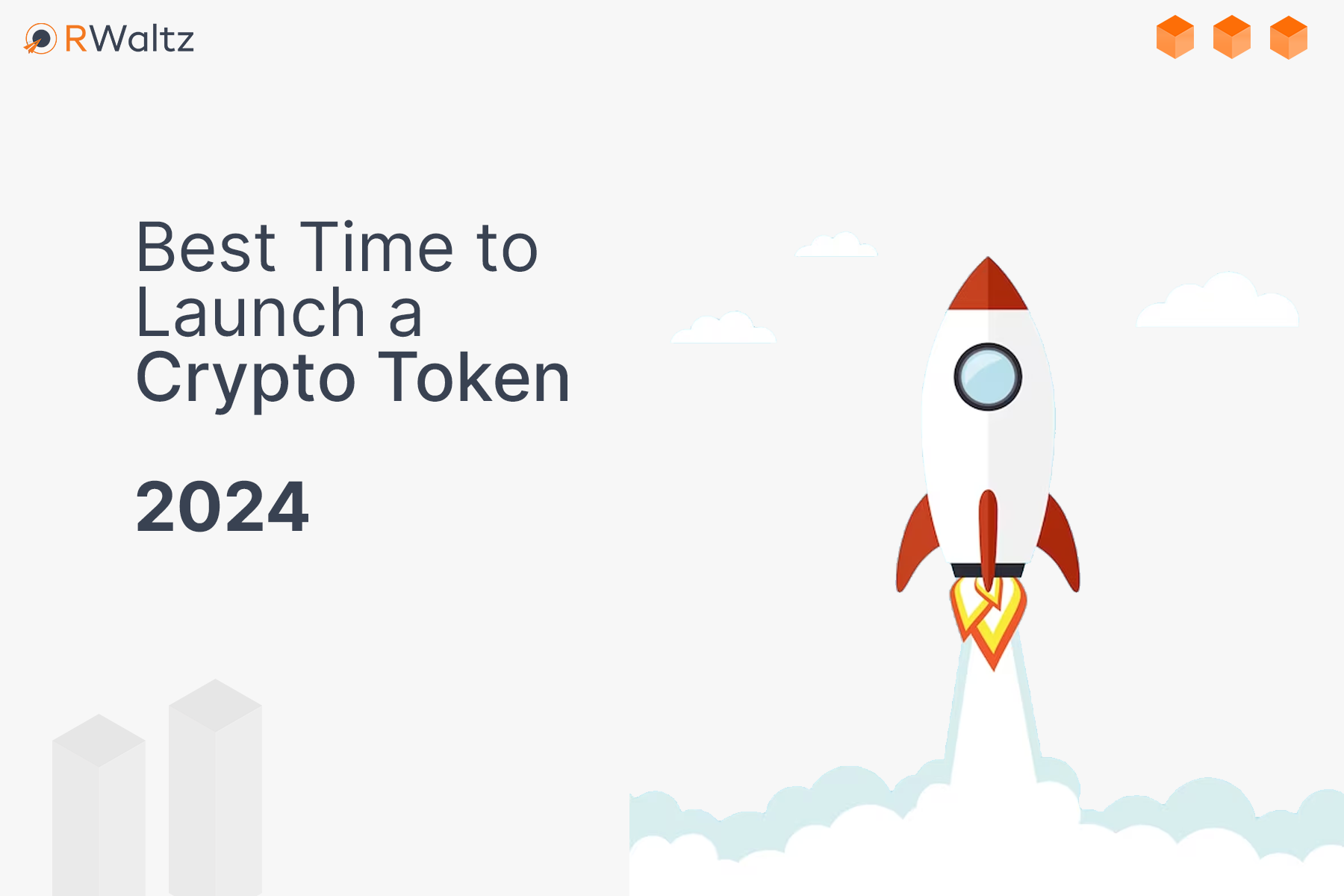 Timing can be everything for blockchain projects and startups considering launching a crypto token. Overall market conditions and sentiment heavily influence the trajectory of new tokens. While predicting price movements is notoriously difficult, certain years tend to present more favorable windows based on the maturation of the market and key events. For teams ready to take their project live, 2024 is shaping up to be an optimal year. leveraging seasoned crypto token development services can set the stage for exponential growth.
Why Launch a Token?
Before exploring market timing, it helps to consider the key reasons projects may create native crypto tokens in the first place:
Funding - Many projects kickstart with a token sale, allowing bootstrap fundraising from the community. This is especially popular for open-source protocols.
Incentives - Tokens allow incentivizing behaviors that grow the network like node operation, platform activity, governance participation, etc.
Exchange - Native tokens allow value exchange within ecosystem services like DeFi lending, NFT marketplaces, computational networks, gaming worlds, etc.
Ownership - Tokens can represent fractional ownership in underlying assets like real estate, renewable energy, or digital goods.
Governance - Token holders often gain voting rights within decentralized autonomous organizations and protocols.
A well-designed token aligns incentives between the project, community of users/investors, and other stakeholders. By leveraging crypto economics, applications can develop into decentralized networks.
Current Market Conditions
To determine the optimal timing for a token launch, projects must analyze evolving blockchain conditions:
Maturing Infrastructure - Robust middleware, developer tools, computational capacity, data feeds, etc. now exist for launching robust token models.
Mainstream Adoption - Cryptocurrency awareness among the general public continues rising after recent rallies and institutional investment.
Regulatory Clarity - Watchdogs worldwide are gradually providing more guidance around compliant crypto projects, reducing uncertainty.
Investor Appetite - After periods of euphoria and despair, markets appear to be entering a more mature accumulation phase seeking fundamentally sound projects.
Improving Sentiment - Following the last "crypto winter" and shakeout of overhyped projects, optimism is steadily returning around well-executed teams.
These dynamics indicate prime conditions are forming to launch blockchain ventures built on meaningful real-world utility. The stage is set for sustainable growth.
Why 2024 Looks Optimal
While market timing is difficult, 2024 looks especially ripe for new crypto ventures based on several key factors:
Bitcoin Halving
The periodic halving of Bitcoin's block reward has consistently been an enormously bullish catalyst. With the next halving expected in 2024, history suggests a strong tailwind for crypto.
Ethereum Upgrades
Ethereum has major architecture improvements planned to launch around 2024 like proof-of-stake migration and sharding. This will greatly expand capacity, use cases, and enthusiasm for Ethereum-based tokens.
Regulatory Clarity
Ongoing guidance from regulators like the SEC will reduce uncertainties around compliant token projects, and many issues will be settled by 2024.
Market Cycle Recovery
Following sharp selloffs in 2022, markets will have likely bottomed and regained an appetite for promising crypto projects by 2024.
Mainstream Momentum
With crypto going mainstream, 2024 could see the velocity of public participation and investment capital hitting an inflection point.
Maturing Infrastructure
By 2024, the middleware, tooling, documentation, cloud services, and other infrastructure underpinning blockchain projects will have greatly matured.
The confluence of these catalysts makes 2024 an ideal launch point for blockchain ventures to ride several synergistic tailwinds. However, seizing the opportunity still requires impeccable execution.
Best Practices for Launching in 2024
To fully capitalize on favorable market conditions requires meticulous preparation:
Robust Token Economic Modeling
Projects must undertake rigorous simulations and scenario modeling to engineer a token correctly calibrated for their network incentives and behaviors.
Institutional-Grade Security
Institutional investors and regulators demand best practices around auditing, formal verification, controls, and governance for crypto projects.
Compliance by Design
A proactive compliance-by-design approach is essential to navigate securities regulations and launch legally. Know Your Customer (KYC) and Anti Money Laundering (AML) controls will be mandatory.
Mainstream Branding
As crypto goes mainstream, branding, positioning, partnerships, and PR must appeal to a more professional investor audience.
Enterprise-Grade Technology
System design, architecture, integrations, middleware, DevOps, and redundancy should meet enterprise standards. Battle-testing is critical.
By combining these elements, blockchain projects launching token models in 2024 can expect to ride multiple tailwinds to exponential growth built on real-world utility.
Partnering With Experienced Teams
Pulling off a professionally executed token launch amidst complex, fast-moving crypto markets is extremely challenging. This is why most successful projects partner with experienced blockchain development teams.
Working with seasoned crypto-native service partners provides crucial advantages:
Proven Track Record - The team has taken multiple previous token projects to live through bull runs and bear markets. Their expertise averts costly pitfalls.
Technical Resources - The team possesses extensive in-house resources across token economics, smart contract programming, security auditing, infrastructure engineering, and compliance processes.
Industry Connections - The team's network provides connections to crypto-savvy user bases, investors, influencers, exchanges, media, and other partners to accelerate traction.
Guidance and Support - The team provides hands-on guidance before, during, and after launch to ensure smooth execution. Their insight is invaluable.
By leveraging an experienced token development partner, blockchain projects can focus on their core competencies and community rather than technical complexities. This hugely de-risks executing a successful market debut.
For blockchain projects, timing a token launch well is critical - but so is impeccable execution. The expected market conditions and catalysts coalescing in 2024 present a prime opportunity. But seizing it requires extensive diligence and capabilities. By combining favorable timing with an institutional-grade approach and experienced partners, projects launching crypto tokens in 2024 are primed for exponential growth trajectories. The window for breakout potential is open.
Planning a crypto token launch? The experts at RWaltz have taken dozens of blockchain projects to market successfully - including through previous bull and bear cycles. Get in touch today to learn how we can execute a professionally managed token launch built for institutional investors in 2024. Let's plan your breakthrough.

Let me know if you would like me to modify or expand on any part of this draft blog article. I'm happy to refine the content further to create an informative, engaging piece on 2024 being an optimal period for launching crypto tokens. Please feel free to provide any feedback!
Crypto token development involves deep expertise across crypto economics, smart contract programming, security auditing, regulatory compliance, liquidity provision, and effective launch execution. By partnering with a proven token development services firm with experience across bull and bear markets, blockchain projects can focus on their competitive edge while experts handle navigating optimal timing and the underlying token complexities.