Cryptocurrency Exchange Development
We Craft a Crypto Exchange Platform that Promises Seamless Trading Experience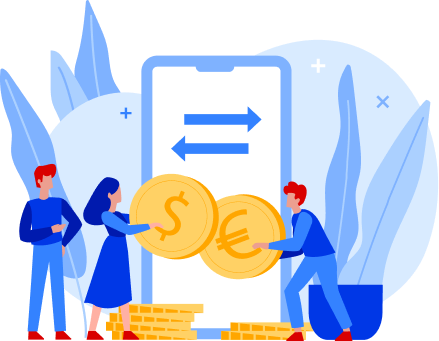 Our Cryptocurrency Exchange Development Services
Develop and Deploy a Cryptocurrency Exchange of Your Choice with Us!
Centralized Crypto Exchange
The Centralized Exchange Platform acts as a third-party between the buyer and seller facilitating reliable crypto trading.
P2P Exchange Development
Leveraging the decentralization concept, P2P Exchange enables end-to-end trading where the escrow wallet is under the control of the admin.
Features of Cryptocurrency Exchange Development Service
Derive a Versatile Cryptocurrency Exchange Platform Embedded with Latest Features!
Multiple Cryptocurrency Integration
We develop a Cryptocurrency Exchange Platform that offers the flexibility to switch between multiple currencies and trade with the currency of your choice.
Multi-layer Security
Through two-factor authentication, OTP verification, email, SMS, SSL implementation, and multiple methods we offer additional login security and encrypted user access to ensure secure trading.
Matching Engine
Our Exchange platform is integrated with a powerful matching engine that matches the orders with the highest accuracy enabling instant buying and selling for users.
Device Compatible
We create an exchange platform that is compatible with all devices and can be accessed from anywhere.
Admin Panel
Our Admin Panel is integrated with dashboard and analytics that enable measuring the performance, monitoring the activities, and tracking the transactions more efficiently.

Benefits We Serve for Cryptocurrency Exchange Software Development
We Serve a Horizon of Benefits to Our Esteemed Customers Through Our Crypto Exchanges
Security Audit
We deploy the exchange platform after rigorous testing and fixing of the bugs to secure the funds and user private keys avoiding vulnerabilities.
Customized Platform
We Customize our Cryptocurrency Exchange Development services based on the needs of our customers to meet their business objectives.
Intuitive Interface
We offer a self-explanatory interface for our Crypto Exchanges delivering an enhanced trading experience.
Cutting-Edge Technology Standards
Our certified professionals stay updated with the cutting-edge technology trends to deliver enhanced Crypto Exchange Development Services.
Why RWaltz is the Preferred Choice of Our Clients?
We are on a Mission to Establish Long-Term Relationships with Our
Clientele through Our Service Excellence

7+ Years of Experience
We carry a vast experience in Blockchain and Crypto Application Development

100+ Core Blockchain Developers
Our services stand out for phenomenal domain experts in the industry who develop your project.

100+ Successful projects
Our team has successfully deployed projects across Industry verticals

Serving Industry Giants
We work with the top 1% of the companies in the Blockchain and Crypto domain

24x7 Support
We offer Round the Clock services even after the project is live
What Else do we Offer?
We are a Top-Notch Blockchain and Cryptocurrency Development Company Offering Customized Services for your Business Demands