Cryptocurrency Exchange Development
We Craft a Crypto Exchange Platform that Promises Seamless Trading Experience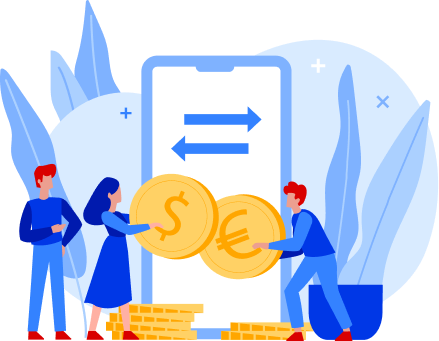 Our Cryptocurrency Exchange Development Services
Develop and Deploy a Cryptocurrency Exchange of Your Choice with Us!
Centralized Crypto Exchange
The Centralized Exchange Platform acts as a third-party between the buyer and seller facilitating reliable crypto trading.
P2P Exchange Development
Leveraging the decentralization concept, P2P Exchange enables end-to-end trading where the escrow wallet is under the control of the admin.
Features of Cryptocurrency Exchange Development Service
Derive a Versatile Cryptocurrency Exchange Platform Embedded with Latest Features!
Multiple Cryptocurrency Integration
We develop a Cryptocurrency Exchange Platform that offers the flexibility to switch between multiple currencies and trade with the currency of your choice.
Multi-layer Security
Through two-factor authentication, OTP verification, email, SMS, SSL implementation, and multiple methods we offer additional login security and encrypted user access to ensure secure trading.
Matching Engine
Our Exchange platform is integrated with a powerful matching engine that matches the orders with the highest accuracy enabling instant buying and selling for users.
Device Compatible
We create an exchange platform that is compatible with all devices and can be accessed from anywhere.
Admin Panel
Our Admin Panel is integrated with dashboard and analytics that enable measuring the performance, monitoring the activities, and tracking the transactions more efficiently.

Benefits We Serve for Cryptocurrency Exchange Software Development
We Serve a Horizon of Benefits to Our Esteemed Customers Through Our Crypto Exchanges
Security Audit
We deploy the exchange platform after rigorous testing and fixing of the bugs to secure the funds and user private keys avoiding vulnerabilities.
Customized Platform
We Customize our Cryptocurrency Exchange Development services based on the needs of our customers to meet their business objectives.
Intuitive Interface
We offer a self-explanatory interface for our Crypto Exchanges delivering an enhanced trading experience.
Cutting-Edge Technology Standards
Our certified professionals stay updated with the cutting-edge technology trends to deliver enhanced Crypto Exchange Development Services.
Why RWaltz is the Preferred Choice of Our Clients?
We are on a Mission to Establish Long-Term Relationships with Our
Clientele through Our Service Excellence

7+ Years of Experience
We carry a vast experience in Blockchain and Crypto Application Development

100+ Core Blockchain Developers
Our services stand out for phenomenal domain experts in the industry who develop your project.

100+ Successful projects
Our team has successfully deployed projects across Industry verticals

Serving Industry Giants
We work with the top 1% of the companies in the Blockchain and Crypto domain

24x7 Support
We offer Round the Clock services even after the project is live
What Else do we Offer?
We are a Top-Notch Blockchain and Cryptocurrency Development Company Offering Customized Services for your Business Demands
Related Articles
PancakeSwap- Would You Like to Develop a Similar Decentralized Exchange?
The rise of cryptocurrency development services has taken the digital world to the next level with businesses embracing the decentralized ecosystem. With a wide array of cryptocurrency exchange development services in the market, the exchange platforms are flourishing in the crypto space. Decentralized exchanges are the platforms where users are increasingly engaging with autonomous markets. A Look into Decentralized Exchanges! Decentralized Exchanges refer to peer-to-peer marketplaces, where crypto enthusiasts trade crypto assets without handing the control to a custodian. Crypto trading on these platforms is facilitated by smart contracts instead of relying on intermediaries or any centralized authority.  Popular examples of decentralized exchanges are UniSwap, PancakeSwap, and SushiSwap. Let's explore more about PancakeSwap. Let's Explore PancakeSwap in depth! PancakeSwap is one of the popular Decentralized Exchange platforms constructed on a Binance Smart Chain. It is one of the most preferred platforms for crypto trading because of its advanced features, liquidity, and global user base. The intuitive interface of the platform enables users to trade Binance coins and exchange BEP-20 tokens securely. The smart contract facilitates the automatic execution of all the trade on PancakeSwap. It is a cost-effective alternative to Ethereum and the platform is audited by leading security auditing firms like Certik. If you are looking to develop a similar exchange platform, you should scroll to our crypto exchange development service. Take a look at what we offer! Top 4 Features That Make PancakeSwap Stand Out from its Competition!Yield Farming PancakeSwap enables crypto enthusiasts on the platform to stake supported liquidity (LP) tokens and earn extra yield. This refers to one of the many yield farms, where users receive a CAKE yield on their LP tokens for participating in the yield farm. Exchange Method The PancakeSwap is built with a DEX based on Automated Market Maker Architecture. Order books are removed from the trading sites through the AMM. Initial Farm Offerings (IFOs) Similar to an Initial DEX Offering (IDO), PancakeSwap allows users to purchase tokens during the early stage of the project. Also, it organized a new ICO model before its public launch which is also called Initial Farm Offering (IFO). During IFOs, the users normally exchange their CAKE-BNB liquidity provider (LP) tokens for new projects. Lottery V2 Amongst the decentralized exchanges in the market, PancakeSwap stands ahead of the fierce competition with its lottery feature. This feature enables the users to buy the lottery ticket by allowing the users to either randomize the ticket number or choose it manually.    Launch Your Own Crypto Exchange Like PancakeSwap! If you wish to launch your own crypto exchange like PancakeSwap, here is the easiest gateway to launch a crypto exchange. RWaltz offers customized crypto exchange development to meet your business goals. Also, if you are looking to develop a crypto exchange platform like UniSwap, PancakeSwap, SushiSwap, etc. get in touch with our experts. Let's Wrap Up Hopefully, the above article has enlightened your knowledge of PancakeSwap. The advanced features PancakeSwap make it one of the most preferred crypto exchange platforms in the market. Hurry up! Explore DEX platforms and develop a customized one with us!
Decentralized Applications – The New Normal in the Digital World
Blockchain Technology paved the way for Decentralized Applications that are gaining media coverage today and will soon become popularly used applications. The Decentralized Applications space is flourishing with technology enthusiasts experimenting the new models.   What is a Decentralized Application? A Decentralized Application or DApp depicts the digital programs that are executed on the peer-to-peer or Blockchain network instead of a single system. A DApp development is based on a decentralized network that is not controlled or managed by a single authority. DApps being developed on Blockchain ensures the safety and transparency of applications. The software is designed on a decentralized system and is governed by the consensus mechanism rather than a centralized authority. What are the features of Decentralized Applications? Decentralized:The decentralized feature depicts a framework that is maintained by a group of nodes, where information is stored in each node in the form of a distributed ledgerConsensus Mechanism DApp being autonomous, cryptographic hashing protocols i.e. proof of work and proof of stake help achieve consensus mechanism in the applicationIncentivized The Dapp development services offer incentivized system by rewarding the participation of network nodes in the DApp based on the terms and conditionsFault ToleranceDApps being decentralized, they eliminate a single point of failure turning to be more stable and secure than the conventional applications based on a centralized systemAutomation Enabling frictionless peer-to-peer transactions, DApp Development services pivot around the smart contracts that are the self-executable agreements ensuring automationWhat are the Benefits of Decentralized Applications?  The Decentralized Applications cater to safeguarding the user's privacy by eliminating the need to submit the KYC information.  DApps use smart contracts to complete the transactions between the two anonymous parties without the need to rely on an intermediary organization. Decentralized Applications exist on a P2P network, so there is less possibility of application downtime. Being open-source, the Dapps are more secure and can be deployed faster.What is the Difference Between Centralized and Decentralized Applications?Wrap UpThe Decentralized Applications Development is the new normal in the technology world with the flourishing distributed network. They have gained momentum across the business world with their commendable advantages over the centralized ecosystem. Are you are looking for a Decentralized Application Development Company? RWaltz is here to here to integrate your ideas into Decentralized projects. Explore our DApp Development services and schedule a meeting with our technology enthusiasts to structure the plan of action.