Tech News > ERP
The Role of ERP in Modernizing Businesses
August 3, 2023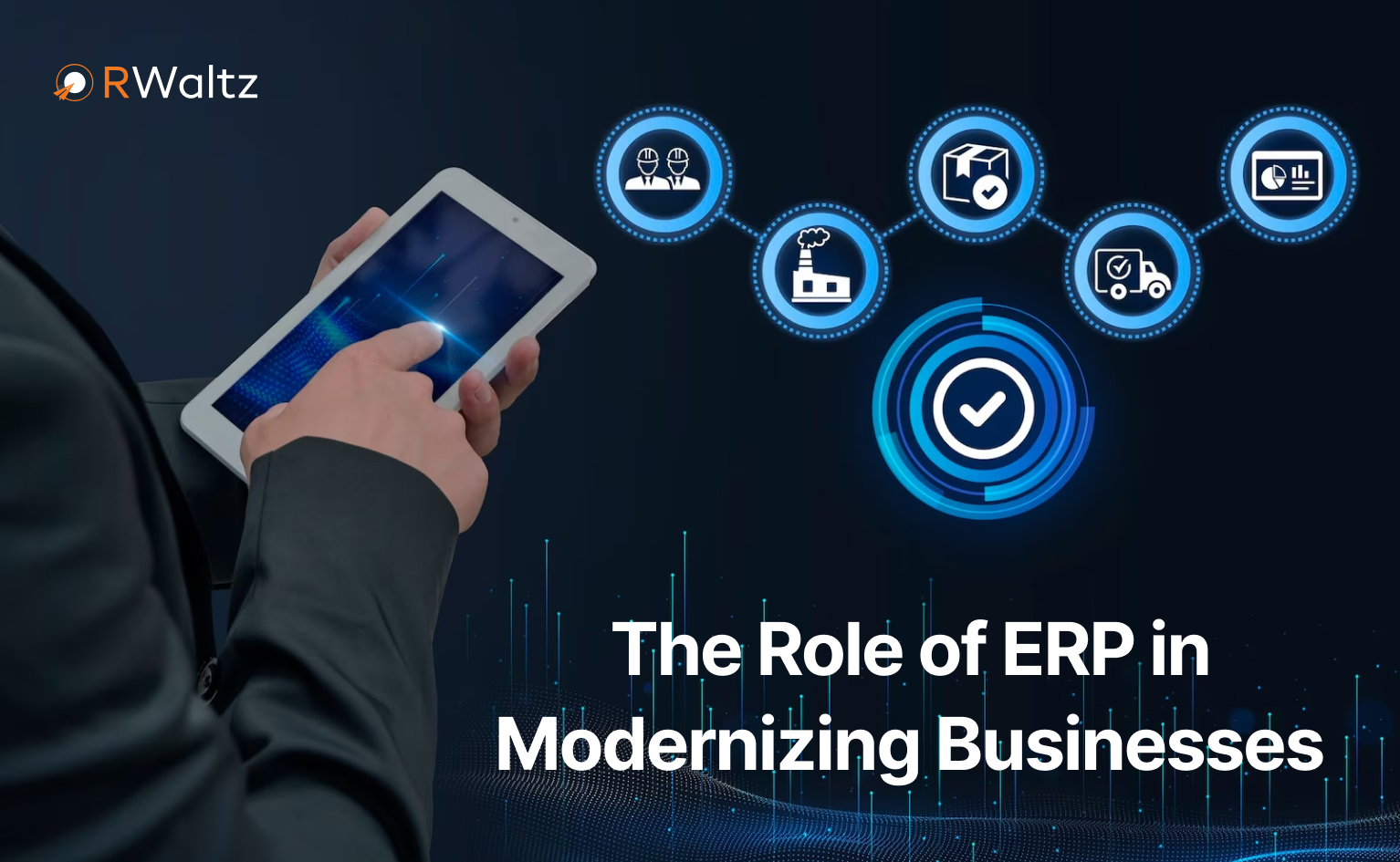 The Role of ERP in Modernizing Businesses
Introduction
In today's highly competitive and rapidly changing business landscape, organizations must continuously modernize themselves to stay ahead of the curve. One of the most critical tools for business modernization is enterprise resource planning (ERP). ERP systems integrate various business processes and functions into a single unified system and provide organizations with enhanced efficiency, insights, and agility. This blog post will examine how ERP enables businesses to modernize by optimizing operations, improving productivity, reducing costs, and making data-driven decisions.

Understanding ERP
ERP refers to a category of business management software that integrates and manages core processes across different departments of an organization on a single unified platform. Key functions covered by ERP include finance, HR, supply chain, manufacturing, inventory, sales, marketing, and more. ERP connects these functions, eliminates data silos, and provides a holistic view of the entire business operations on a real-time basis.
By bringing various business units together into an integrated system, ERP eliminates the need for separate software systems for different departments. It acts as the central nervous system for the organization and enables a seamless flow of information across departments. This leads to better coordination and visibility across the enterprise.

Need for Modernization in Businesses
In today's highly competitive global markets, standing still means falling behind. Businesses need to continuously modernize and transform themselves to stay successful. Some key drivers making business modernization an imperative are:
Changing Customer Expectations: With digital transformation, customer expectations are evolving rapidly in terms of superior experience and hyper-personalization. Businesses need to modernize to cater to these rising expectations.
Disruptive Competition: New innovative competitors and disruptive business models can threaten the survival of incumbents. Modernization helps build resilience to combat disruption.
Regulatory Changes: Evolving regulations, especially regarding data privacy, sustainability, and compliance mandate that businesses update their processes and systems.
Emerging Technologies: Advanced technologies like AI, automation, IoT, cloud, etc. are reshaping industries. Modernization is required to leverage these and stay competitive.
Data Explosion: Increasing data volumes present challenges as well as opportunities for gaining insights. Modern systems help manage and analyze big data.
Globalization: As businesses expand globally, streamlined operations and supply chains are needed to serve new markets efficiently.
Impact of ERP Systems on Business Performance
ERP implementation enables the modernization of systems, processes, and culture within an enterprise. The impact of ERP adoption on key business metrics and performance is significant:
Improved Productivity: By automating tasks and workflows, ERP systems enhance workforce productivity by 15-20%.
Reduced Operational Costs: ERP improves resource utilization and supply chain efficiency leading to cost reduction of 10-20%.
Better Customer Experience: Integrated data and omnichannel capabilities of ERP improve customer experience metrics like NPS by over 15%.
Improved Collaboration: Cross-functional transparency enabled by ERP improves collaboration and employee engagement across departments.
Enhanced Agility & Innovation: ERP implementation correlates strongly with improved agility, adaptation to change and technology-driven innovation.
Faster Cycle Times: ERP streamlines processes like order-to-cash, procure-to-pay, etc., reducing cycle times by over 25%.
Improved Visibility & Control: Real-time enterprise-wide visibility provided by ERP enhances managerial oversight and control.
The tangible impacts clearly highlight the vital role of ERP in enabling businesses to modernize operations and gain a competitive edge.
Key Benefits of ERP in Modernizing Businesses
Let us look at some of the key ways in which ERP systems allow organizations to modernize:
1. Optimized Operations & Improved Efficiency
ERP integrates business processes across departments and optimizes workflows. This eliminates redundant tasks, minimizes manual errors, and improves operational efficiency. Guided workflows and standardized processes also boost workforce productivity.
2. Enhanced Reporting, Analytics & Insights
ERP centralizes enterprise data in a single source of truth. It facilitates advanced reporting and analytics which support data-driven decision-making across levels. Predictive analytics can also be leveraged to gain futuristic insights.
3. Agile, Scalable & Future-Ready Systems
Cloud-based ERP solutions provide agility, scalability, and upgradability to support future growth and evolving needs. This builds an adaptive, flexible, and resilient business architecture.
4. Omnichannel Customer Experience
ERP enables consistent and personalized omnichannel experiences across touchpoints. Integrated CMS, POS, CRM, and order/inventory data aid in delivering seamless omnichannel CX.
5. Anytime, Anywhere Access
Mobile and self-service capabilities of cloud ERP allow employees, customers, and partners to access information on the go from any device. This boosts productivity and satisfaction.
6. Enhanced Collaboration & Visibility
Breaking down of silos via unified systems enhances cross-departmental collaboration in the organization. Managers also gain enterprise-wide visibility for improved monitoring and control.
7. Stronger Compliance & Security
ERP systems incorporate robust mechanisms for access control, data security, and regulatory compliance. This modernizes management of risks, governance, and compliance.
8. Sustainability & Supply Chain Improvements
ERP enables the optimization of production, inventory, and logistics and enables sustainability initiatives like carbon tracking. Overall efficiencies are boosted.
9. Lower TCO & Faster ROI
Cloud ERP solutions require lower upfront capital investment and have lower ongoing maintenance costs compared to on-premise solutions, leading to 30-50% reduction in TCO and faster ROI.

ERP Implementation Strategies and Best Practices
Implementing ERP is a complex long-term project requiring extensive planning and precise execution. Here are some key strategies and best practices:
- Perform in-depth requirements analysis covering all user groups and map business processes.
- Evaluate solutions from vendors like SAP, Oracle, Microsoft etc. based on functional fit, flexibility, and ease of use.
- Phase the rollout by modules to minimize disruptions and allow time for training and adoption.
- Involve key users early and extensively in solution evaluation and testing.
- Undertake extensive change management and user training initiatives pre, during and post-implementation.
- Hire experienced implementation consultants to direct the technical rollout and minimize glitches.
- Build interfaces to integrate ERP with existing complementary systems like CRM, HRMS etc.
- Conduct robust data migration, cleansing, and testing to ensure data integrity.
- Establish metrics and feedback loops to keep monitoring usage, user experience and benefits realization.
- Plan for continuous optimization and keep pace with upgrades to derive maximum value.

Overcoming Challenges in ERP Implementation

Some key challenges faced by organizations while implementing ERP and ways to address them include:

1. Challenge: Lack of senior management commitment and involvement.
Solution: Secure active C-suite sponsorship for ERP projects and ensure their continued engagement.

2. Challenge: Poor planning, scoping and budgeting leading to cost/time overruns.
Solution: Invest sufficient time upfront in detailed planning and build contingency buffers into implementation budgets.
3. Challenge: Deficient change management and employee training.
Solution: Plan and invest early in extensive training programs and proactive change management initiatives.
4. Challenge: Technical complexities and lack of integration with existing systems.
Solution: Onboard specialized implementation partners and allow sufficient time/resources for integration.
5. Challenge: Unanticipated business disruptions and drops in productivity.
Solution: Phase rollout department-wise, maintain old systems in parallel till stabilization and provide end-user support.
6. Challenge: Lack of internal team capacity and technical know-how.
Solution: Augment internal teams with experienced external consultants/SMEs for the implementation.
7. Challenge: Poor data quality and migration errors.
Solution: Perform exhaustive data cleaning prior to migration and conduct rigorous testing.
Overcoming these roadblocks requires foresight, change management prowess, patience and strong project management. The long-term modernization benefits of ERP systems however far outweigh the temporary challenges of implementation.

ERP systems provide the digital backbone for business modernization and transformation initiatives. Integrated data and workflows enable improved productivity, insights, visibility, and customer experience. Cloud and mobile capabilities also provide agility. For ERP success, astute planning, change management, and sustained executive commitment are vital. Once challenges are navigated, ERP systems become a robust platform for leveraging emerging technologies and steering the organization toward a digital future. With sound implementation strategies and best practices, the transformational impact of ERP on all aspects of business performance can be maximized.
To learn more about leveraging ERP systems to kickstart your modernization journey, get in touch with us for a consultation. Our experts can assess your current technology systems, identify areas for improvement and suggest solutions tailored to your specific business needs. The time for modernization is now - contact us to get started!