Blockchain > NFT Marketplace
Navigating the NFT Market: Exploring Platforms and RWaltz's White-Label Solution
August 7, 2023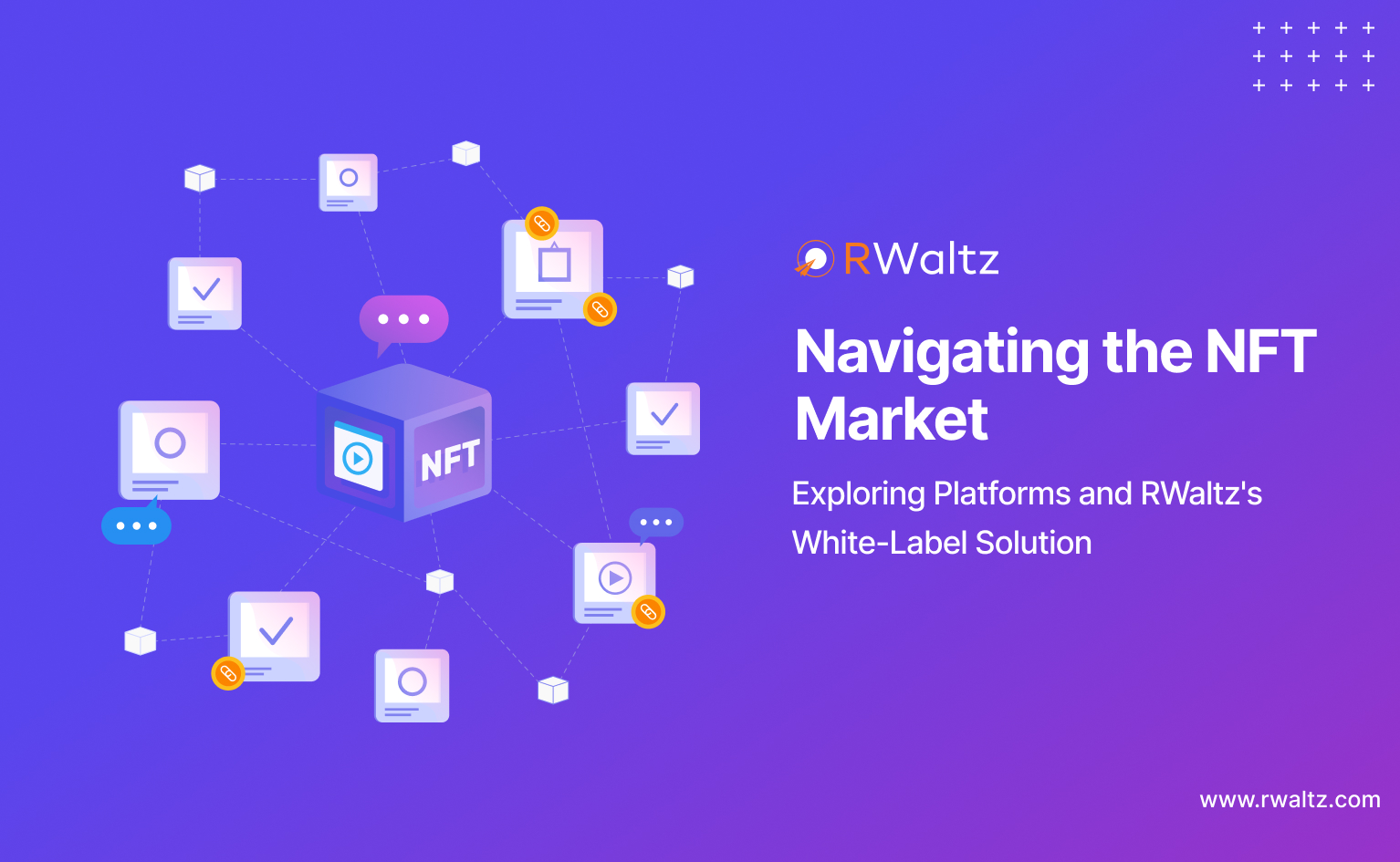 Non-fungible tokens (NFTs) have exploded in popularity recently, creating new opportunities for artists, creators, and businesses to monetize digital assets. NFT marketplaces play a pivotal role in this revolution by enabling the minting, buying, and selling of these blockchain-backed assets. This in-depth blog post explores the evolving NFT landscape and how RWaltz's white-label NFT marketplace solution empowers you to capitalize on this growth.
Understanding the Booming NFT Market
An NFT is a unique digital asset that represents ownership of a specific item like art, music, videos, collectibles, and more. Each NFT is authenticated on the blockchain, providing proof of ownership, transaction history, and digital scarcity.
NFT marketplaces have unlocked new ways for creators to monetize their content by selling limited-edition digital goods to global audiences. For collectors and enthusiasts, NFTs enable ownership of one-of-a-kind digital assets that hold immense potential value. NFT sales exceeded $40 billion in 2021 alone, reflecting incredible growth.
Popular NFT marketplaces like OpenSea, Rarible, and SuperRare offer broad catalogs spanning digital art, music, 3D avatars, video clips, metaverse assets, and more. Niche marketplaces focused on specific verticals like sports and gaming are also emerging. These platforms have enabled digital creators to build thriving communities of engaged collectors.
For businesses, launching branded NFT marketplaces fosters deeper engagement with customers and fans. From luxury brands releasing exclusive digital wearables to gaming firms offering in-game NFT rewards, the applications are wide-ranging. The vibrant and bleeding-edge NFT space presents a major growth opportunity.
The Benefits of Building Your Own White-Label NFT Marketplace
Given the scope of possibilities with NFTs, many artists, creators, and enterprises are keen to operate their own branded marketplace. But developing a custom NFT platform requires significant time and technical blockchain expertise.
This is where a white-label NFT marketplace solution comes in - it allows you to quickly establish a marketplace under your own brand, customized to your specific needs.
Some major advantages of using a white-label NFT platform include:
Quick Launch: Get your NFT marketplace up and running in weeks rather than months.
Cost-Effective: Save significantly compared to developing an NFT platform from scratch.
Customization: Tailor the marketplace via flexible theming, branding, and configuration options.
Proven Technology: Leverage robust and scalable technology architecture.
Security: Reliable security protocols for wallet storage, KYC, and fraud prevention.
Convenience: Hassle-free maintenance and updates managed by the vendor.
Revenue Share: Earn commissions and fees on NFT trades under your brand.
For artists and creators, a white-label NFT marketplace facilitates community growth and ownership of your fan base. For businesses, you can engage communities in innovative ways to boost loyalty and identify new monetization avenues.
RWaltz – Specialists in NFT Marketplace Development
RWaltz brings deep expertise in crafting customized white-label NFT marketplaces for a diverse clientele. With end-to-end services covering everything from blockchain protocols to UI/UX design, RWaltz enables you to turn your NFT vision into reality with minimal effort.
Technical Capabilities and Features
Some key capabilities offered by RWaltz include:
Support for Ethereum, Polygon, Solana, and other blockchain protocols
Integration of popular token standards like ERC-721 and ERC-1155
Digital rights management for enforcing usage conditions
Integrated payment gateways like Stripe, PayPal, etc.
Creator profiles and account management dashboards
Tools for community engagement – comments, activity feeds, etc.
Configurable royalty distribution to creators and IP owners
Multi-chain interoperability for cross-chain asset transfers
Secondary marketplaces and auction functionality
RWaltz builds NFT platforms optimized for security, scalability, and reliability leveraging cloud infrastructure, caching, load balancing, and regular auditing.
Delivering Value to Diverse Stakeholders
RWaltz caters to diverse NFT marketplace owners including:
Artists: Showcase artwork as NFTs, build collector communities, and unlock new revenue streams.
Musicians: Tokenize music files, demos, and merch, and leverage NFTs for fan engagement.
Content Creators: Monetize exclusive videos, digital art, photos, and other multimedia content.
Gaming Companies: Offer in-game NFT assets, characters, upgrades, and virtual worlds for better engagement.
Enterprises: Launch NFT ecosystems around branded collectibles, rewards programs, intellectual property, and events.
IP Owners: Create fractional ownership of patents, trademarks, licenses, and assets via NFT tokenization.
Influencers: Engage followers by releasing exclusive NFTs with utility benefits like 1-on-1 access.
Commercial Brands: Build loyalty and generate revenue through branded digital collectibles and merchandise.
Whether you are an indie artist, startup or Fortune 500 company, RWaltz provides the full suite of technology and services to bring your NFT vision to fruition.
Ensuring a Secure and Intuitive NFT Marketplace
RWaltz implements rigorous security best practices covering:
Support for MetaMask, TrustWallet, Coinbase Wallet, and other leading digital wallets
Multi-layer infrastructure safeguards like firewalls, VPNs, redundancy
Regular smart contract auditing for vulnerability detection
Integration of KYC verification for secure onboarding
DDoS protection and built-in fraud analytics
RWaltz prioritizes design thinking and user-centric principles to craft intuitive user interfaces for NFT marketplaces. Key focus areas include:
Responsiveness across mobile, tablet, and desktop interfaces
Consistent UX with minimal steps for key workflows
Social media API integrations for better discovery and sharing
Customizable themes and layouts
Advanced analytics and sales tracking for creators and owners
Multi-lingual capability
Conclusion: Capitalize on the NFT Wave with RWaltz
As NFT adoption gathers pace, RWaltz provides the springboard for you to build and own your digital economy while enjoying the liquidity of a shared marketplace. With deep blockchain expertise and proven delivery models, RWaltz simplifies your NFT marketplace launch while ensuring a reliable, scalable, and extensible platform. To explore how you can harness NFTs and craft a transformative web3 marketplace under your brand, book a demo with our experts today!