Blockchain > Defi
DeFi 2.0 : The Next Revolution in Decentralized Finance
June 10, 2022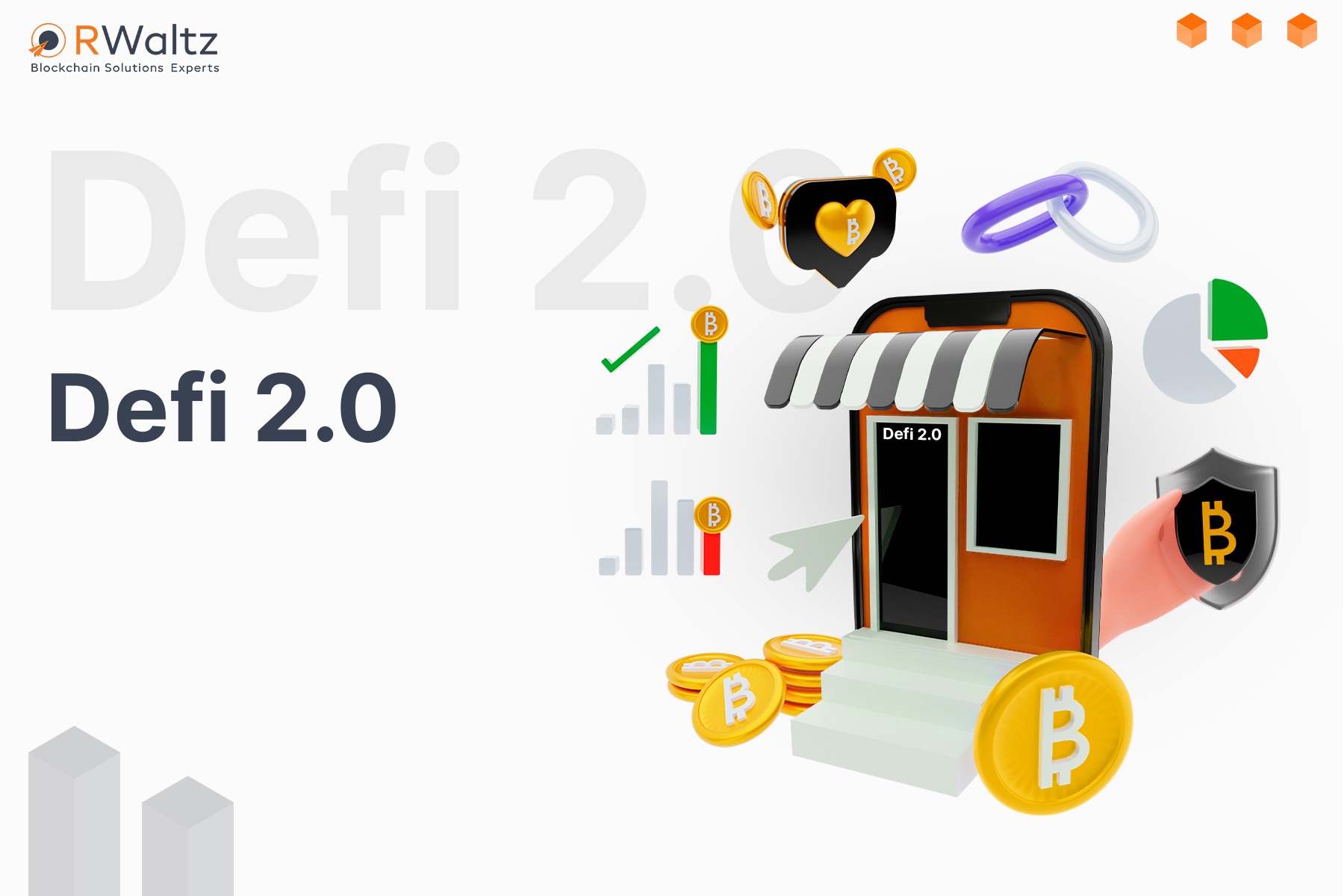 It's not just Decentralized Finance but, now it's DeFi 2.0 offering users a new source of passive income and greater autonomy. The continuous iterations in DeFi protocols fuelled the next generation of Decentralized Finance Development leading to DeFi 2.0. DeFi 2.0 refers to the subset of DeFi protocols native tokens experiencing liquidity constraints.
Decentralized Finance Development Services are stepping ahead with DeFi 2.0 to address the risks present in DeFi Transactions. DeFi 2.0 mitigates the risks associated with crypto fluctuations by offering insurance to the liquidity providers who fund a liquidity pool with crypto assets. DeFi 2.0 ensures that smart contracts are free from critical errors by performing audits on the contracts.
What is DeFi 2.0?
DeFi 2.0 refers to the second generation of Decentralized Finance, that solves the challenges in the 1st iteration of DeFi. DeFi 2.0 is defined as an iteration of DeFi protocols to improve the shortcomings in DeFi.
DeFi 2.0 Vs DeFi 1.0
DeFi 2.0 was developed to resolve the shortcomings of DeFi 1.0. Let's dive in deep to explore the difference between both the Decentralized Finance protocols

| | | |
| --- | --- | --- |
| Category | Defi 2.0 | DeFi 1.0 |
| Connection Between Users | Strong Connection Between Users. | No Connection Between Users. |
| Ecosystem | It includes DAOs, and liquidity incentives that create, a warm sustainable, and decentralized interconnected financial architecture delivering capital efficiency. | It has Decentralized trading applications, DEXs, lending and stablecoin applications, liquidity machine gun pool applications, synthetic assets, and insurance-type projects. |
| Governance Pattern | Governance and policy rights are delegated to the members. | It has a democratic process that doesn't rely on a powerful arbiter for decision-making. |
| Scope for Innovation | Unlimited scope for financial and technological innovations. | One-way technology development and innovation. |
What is the Goal of DeFi 2.0?
Unlike the earlier Decentralized Finance (DeFi) Developments, which were crafted focussing on users. DeFi 2.0 is developed more specifically for the business-to-business purpose. The main goal of DeFi 2.0 is to resolve the below-mentioned limitations of DeFi.
Scalability:
Decentralized Finance (DeFi) protocols on blockchains that have high traffic and gas fees offer slow and expensive services. These Decentralized Finance (DeFi) Developments often take too long for simple tasks and are cost-inefficient. Crafted on the latest blockchains like Polygon or Solana, DeFi 2.0 resolves the limitations on scalability.
Oracles and third-party details:
DeFi systems based on external details require enhanced quality oracles i.e. third-party data sources. This is resolved with Defi 2.0.
Centralization:
The Goal of Decentralized Finance Development Services should be an increased amount of Decentralization. But, the earlier generation of Defi Protocols doesn't satisfy this. To address this limitation, DeFi 2.0 is integrated with DAO ensuring higher decentralization.
Security:
The periodic audits of DeFi Smart Contracts often lead to routine updates and software changes. This can cause outdated and redundant information even from credible DeFi security companies.
Liquidity:
Providing liquidity to a pool needs locking up funds and their total value. Markets and Liquidity pools are spread across multiple blockchains offering financial rigidity that leads to market inefficiency. Addressing this issue, DeFi 2.0 focuses on long-term liquidity through the OlympusDAO protocol.
Which are the DeFi 2.0 Projects to watch for?
Decentralized Finance has evolved to ensure an enhanced financial ecosystem. Here are a few DeFi 2.0 projects to watch for.
Olympus DAO
Olympus DAO is one of the leaders in DeFi 2.0. This Defi is referred to as a Decentralized Autonomous Organization (DAO) with OHM as its native token.
Convex Finance
Convex Finance (CVX) refers to a Decentralized Finance Defi Development built on top of stablecoin exchange Curve Finance (CRV). The reason users stake CRV tokens on Convex Finance is that it offers more rewards.
Lido (LDO)
Lido is a Defi 2.0 platform that refers to a staking solution on Ethereum. Lido's staking solution enables users to stake ETH while avoiding asset locking requirements.
Wrap up
DeFi 2.0 is a movement in the Decentralized Finance Development that increasingly focuses on business-to-business operations. Hopefully, the above article has enlightened your knowledge of DeFi 2.0. For more details, feel free to connect with our experts.
If you are looking for a robust Decentralized finance Development company, you are at the right place. Hurry up! Schedule a meeting with us and let's take your project ahead.