Crypto > Token
Navigating the Regulatory Crossroads: Cryptocurrency in the Wake of the 2023 G20 Summit
September 13, 2023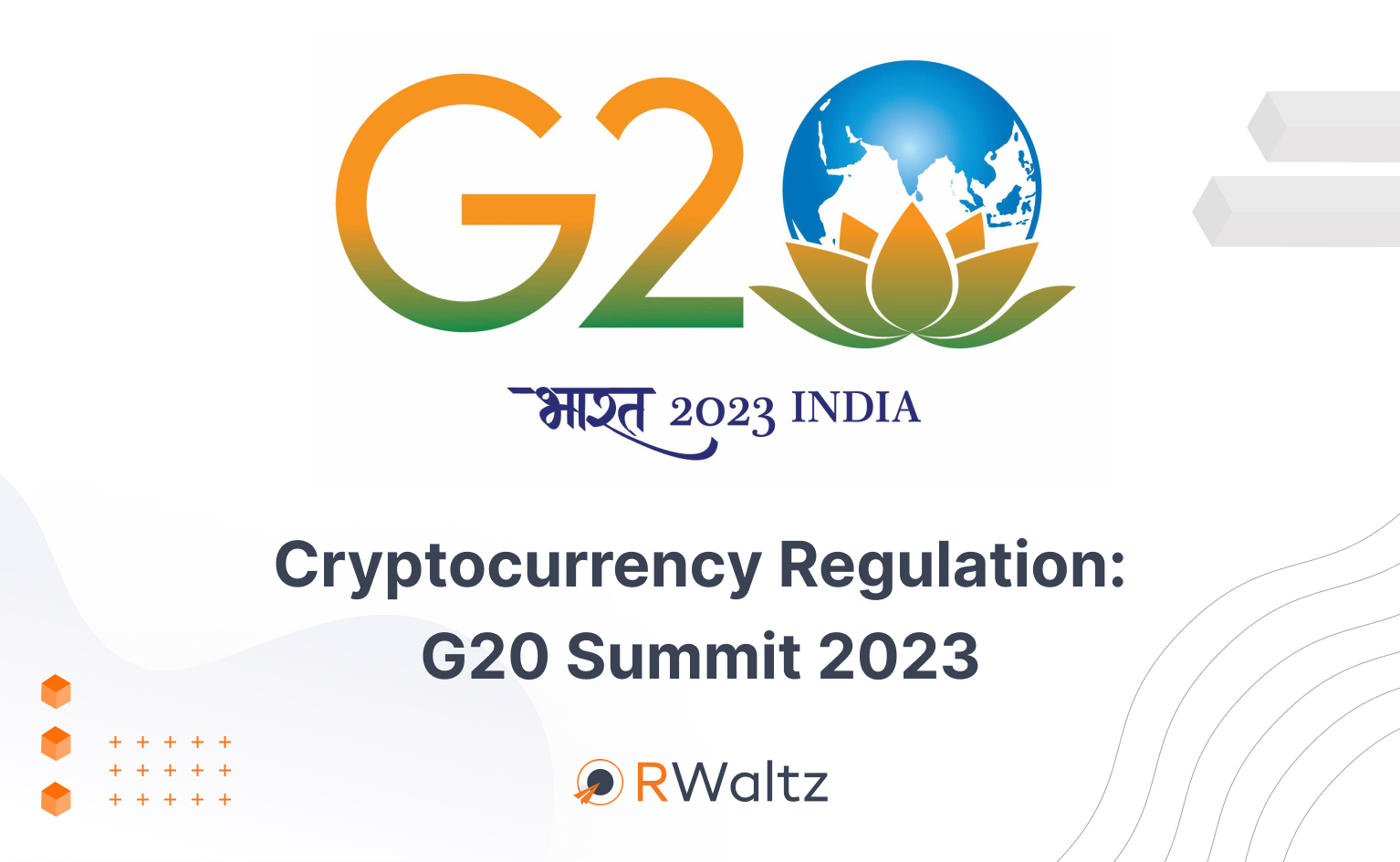 The latest G20 Summit in New Delhi, India in February 2023 brought together leaders from the world's largest economies to coordinate policy responses to pressing global issues. Amidst conversations on topics like climate change, food security, and pandemic preparedness, cryptocurrency regulation also took center stage.
With the meteoric rise of crypto assets like Bitcoin and Ethereum in recent years, many governments now face a challenging balancing act - fostering financial innovation while safeguarding monetary stability and protecting consumers. This struggle to strike the right regulatory balance was evident across pronouncements and proposals around cryptocurrency regulation emerging from the G20 deliberations.
Cryptocurrency as a Global Policy Priority
In his inaugural address at the G20 Summit, Prime Minister Narendra Modi of India noted that global governance institutions like the IMF and World Bank must evolve to address new economic realities like cryptocurrency. He emphasized the need for "synchronized thinking and synchronized action" in adapting regulatory frameworks to new digital financial instruments.
Building on this theme in remarks to G20 leaders, IMF Managing Director Kristalina Georgieva noted that a key focus of new surveillance mechanisms must be "crypto assets that may pose financial stability risks." She highlighted the IMF's efforts to help member countries design crypto regulatory regimes meeting international standards through its new Crypto-Asset Dialogue.
The official G20 Leaders Declaration adopted at the conclusion of the Summit also prioritized strengthening "policy frameworks including by considering multilateral responses as needed" related to the challenges and risks posed by crypto-assets. This formal acknowledgment of cryptocurrency regulation as a global policy priority sets the stage for accelerated multilateral cooperation in the months ahead.
Emerging Consensus and Lingering Divisions
Behind closed doors, the G20 leaders debated two competing approaches to cryptocurrency regulation - banning private digital currencies altogether while encouraging central bank digital currencies (CBDCs), or implementing stricter rules to manage risks while permitting the continued development of decentralized crypto-networks.
The European Commission strongly pushed for bringing cryptocurrencies like Bitcoin and Ethereum under regulatory purview rather than pursuing outright bans. It argued such "prohibitionist regulations...could lead to unintended detrimental consequences" like cryptos going underground. Leaders from tech-savvy countries like Singapore and Japan concurred, emphasizing that thoughtful regulation does not preclude innovation.
On the other hand, China, Russia, and Indonesia argued for prohibiting non-state digital currencies as too volatile and risky. They highlighted security and illicit financing concerns. However, even these leaders acknowledged that CBDCs may be warranted for governments to "not miss the bus" of digitalization.
In the end, the leaders settled on calling for enhanced global coordination and information sharing related to crypto-asset risks and policies. They tasked standard-setting bodies like the Financial Stability Board (FSB) to intensify work on gaps in oversight frameworks. But concrete policy prescriptions remained aspirational.
Roadmap for Tighter Regulation
While the G20 Summit did not produce binding crypto policies, it did advance the trajectory toward stricter regulation globally along common principles:
1. Reporting Requirements
There was consensus on imposing reporting rules for crypto transactions to ensure visibility into risks for authorities. Leaders called for capturing data like asset flows between service providers, investors' identities, and wallet ownership.
2. Prudential Safeguards
Leaders want to see capital, liquidity, and leverage requirements imposed on cryptocurrency service providers to restrict risk-taking. Restricting lending against volatile crypto collateral and mandating custodial reserves would offer prudential safeguards.
3. Investor Protection
Greater scrutiny would apply to crypto advertising and marketing to protect consumers against excessive risks. Disclosures around crypto's volatility must be mandated. Segregating client and firm assets would also offer risk buffers.
4. AML Enforcement
Toughening anti-money laundering (AML) and combating the financing of terrorism (CFT) rules for "virtual asset service providers" emerged as a common priority to mitigate illicit crypto flows.
5. Cross-Border Coordination
All leaders stressed expanded cooperation between national regulatory bodies through networks like the FSB to harmonize crypto reporting standards, suspicious transaction monitoring, and enforcement actions.
While the above principles outline common ground, divergences remain across how stringently different nations plan to regulate cryptocurrencies amidst calls for caution in stifling innovation. Striking the right balance stays complex.
The Road Ahead for Crypto Regulation
As crypto regulation evolves in the wake of the G20 agenda-setting summit, what can investors, innovators, and consumers expect? Some likely implications include:
More robust data gathering and surveillance of crypto transactions, holdings, and service providers as reporting rules kick in. However, some privacy-focused cryptos may resist oversight.
Increased barriers to entry and compliance costs for crypto exchanges and platforms as prudential regulations get phased in. Small startups may get squeezed out.
Growing patches of "crypto havens" as jurisdictions compete to attract investment with more flexible regimes, undermining harmonization. This could spark a "race to the bottom".
Central bank experiments with CBDCs accelerating as governments recognize state digital currencies as a strategic imperative. But interoperability challenges lie ahead.
Continued institutional adoption tempered by compliance changes as large asset managers navigate heightened regulations. Mainstream familiarity will still grow.
While the full impact remains uncertain, the G20 Summit undoubtedly marks a turning point for cryptocurrency oversight entering a more mature regulatory era. As leaders emphasized, international coordination and evidence-based policymaking will be vital in balancing innovation with stability. crypto custodial services
For companies like us providing custodial services for crypto assets, active participation in policy discussions and prudent self-regulation will be key to advancing proportionate frameworks attuned to the technology's risks and potential. Contact us today to learn more about our advocacy work and compliance-focused services as the regulatory landscape evolves.
The path forward promises to be winding but ultimately constructive. With good faith efforts on all sides, cryptocurrency can gain mainstream traction in a manner upholding the values of accountability, consumer protection, and financial stability. The opportunities are profound if we can align interests and uphold principles.
As cryptocurrency enters a new era of regulation and maturation, the need for secure, compliant crypto solutions will only accelerate. Our development teams stay ahead of the curve, building fintech infrastructure ready for the road ahead.
To create innovative tokenized systems tailored to your needs, contact us today. With deep blockchain expertise and an eye on emerging policy, we develop the crypto applications of the future.