Crypto > NFT Marketplace
Automation Industry adopting NFT Marketplace with unique CAR NFTs
July 21, 2022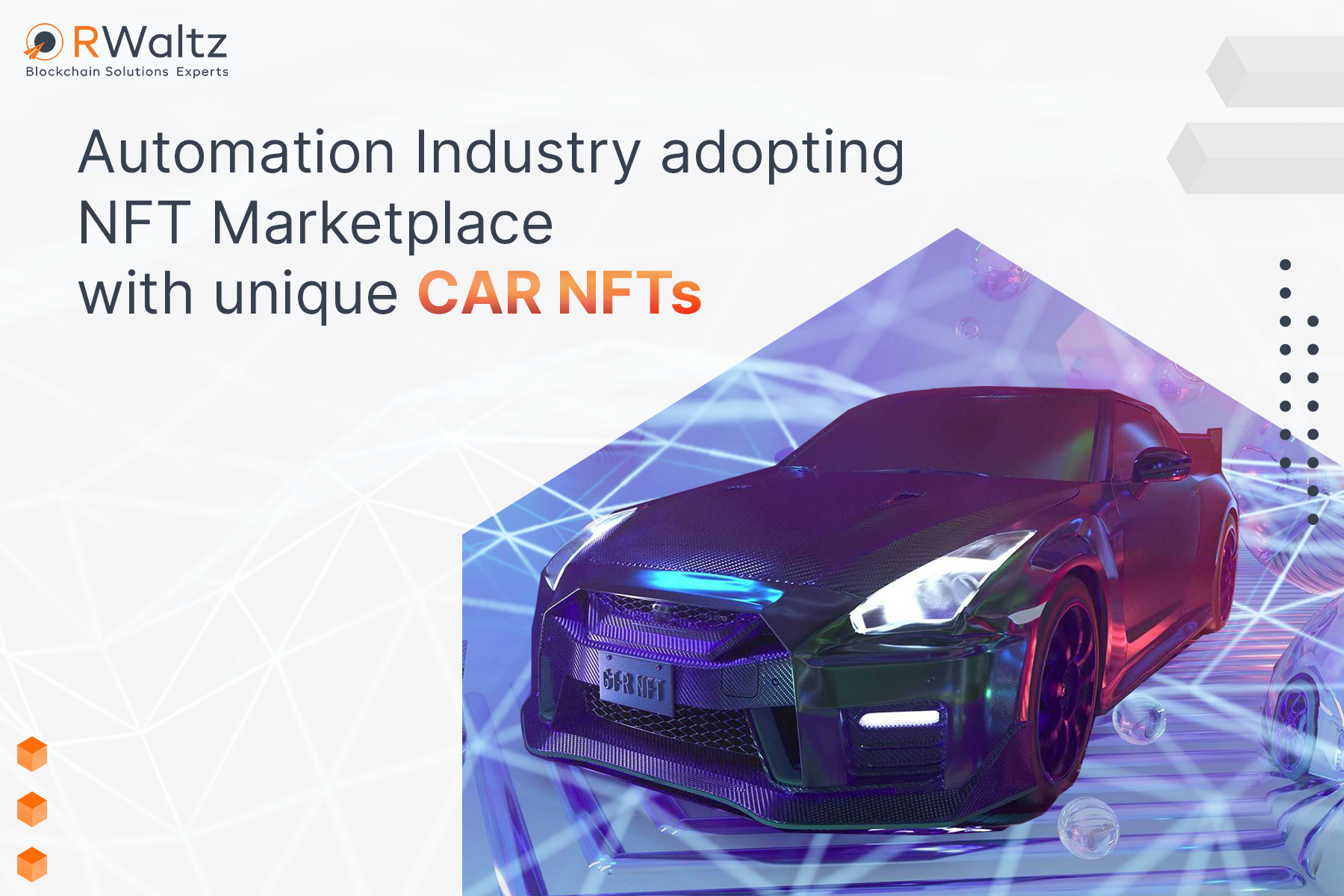 Car NFTs are enhancing the driving experience of luxurious cars with the NFTs market booming in the automotive sector. NFT Marketplaces are creating endless business opportunities for automakers right from refueling stations to car maintenance.
What are car NFTs?
NFTs crafted by car owners for their luxurious cars are termed Car NFTs. Generally, Car NFTs are defined as the NFT launched by a car manufacturer on an NFT Marketplace. Car NFTs include collectibles or videos of cars, live racing events, some memorable clips of the event, animated videos, etc. These NFTs are also considered to be the digital twin of the respective cars.

MotoBloq Joins the NFT Marketplace Development Craze
MotoBloq is an NFT Marketplace for automakers to list and trade their unique car collectibles. The platform is collaborating with car brands and designers to sort the popular and unique releases of vehicles. MotoBloq NFTs unlock unique and exclusive experiences for car owners in the real world and virtual space.


Collaborate with a reliable NFT Marketplace Development Company to create a similar platform.
Top 5 Trendsetting Car NFTs
Explosive Lamborghini Huracan
Lamborghini Huracan is the most spectacular Car NFT Development which depicts a video of the exclusive car being blown up with explosives. Later, the brand listed 999 exquisitely filmed fragments of a detonated luxurious car as NFTs. In addition, the person buying a small video clip on the NFT Marketplace gets a part of the wrecked car.

Rolls-Royce Black Badge NFT Development
To celebrate the black-badge legacy, Rolls-Royce mints its car NFT. The company announced the black-badge NFT variant of the new Ghost. This Car NFT is an animation crafted by the illustrator and artist Mason London that offers an exclusive experience to the users. One of its NFTs was sold for $69 Million at an auction.

Lykan Hypersport Stunt Car NFT
Lykan Hypersport Stunt Car is listed on NFT Marketplace for auction as 1st physically-backed on-chain NFT automotive. This NFT series includes a video that depicts the rendering of the stunt car and the actual stunt car. This car NFT with an exclusive piece of Fast & Furious Franchise movie history was sold for about $525,000.

Porsche Taycan NFT Digital Art Car
Porche Australia has leveraged the NFT craze by collaborating with an artist Nigel Sense to create a new art car for 3 photo-based NFT Developments. This NFT series was crafted to celebrate Porsche's 70th anniversary. This electric art car is photographed to create three unique digital artworks. The brand collaborated with German NFT Collectibles company Fanzone.io to turn these pictures into NFTs and auction them on NFT Marketplace Development.

Nissan GT-R NFT
Juniper park crafted the GT-R NFT to represent Nissan Canada's mission of engaging the audience. The NFT series was sold for $2.3 Million which was over ten times the reserved cost. The digital artwork showcases the GT-R in three supernatural 3D rendered environments depicting the vehicle's supernatural performance.

Wrap Up
Hopefully, the article has enlightened your knowledge of Car NFT Development. For more queries, you can connect with our experts.
Are you looking for an NFT Marketplace Development Company? Scroll yourself to our services and schedule a meeting with us right away to discuss your project idea.