Lotanchain
Designing Best-In-Class UI/UX to deliver Exuberant Customer Experience
Design is the first thing user interacts with whenever it uses the website or application. A lot of things depend on the design as per the user's perspective. Within the first seconds, the user decides whether to continue with the website or look for better options. Understanding this general scenario, our designers go with thorough research while placing a single icon in the product.
Through a responsive website design, our designers aimed at increasing the traffic and decreasing the bounce rate.
The designers at RWaltz present different design models to the clients based on their requirements.
Blockchain Application Development Platform
For Lotanchain, our designers came up with the best suggestions as per the market and created a magnificent UI/UX for our client.
Best-In-Class UI/UX: Easy to understand buttons and navigation to any new user and beneath the line design guiding the user for his next step for his call to action.
Responsiveness: Nowadays, almost every website is responsive. But our designers have kept special attention to the UI/UX achieving responsiveness across all platforms.
Device Compatible: Generally, there are a few websites that are only desktop compatible. So, when viewed on mobile either a few icons are not visible or the content and icons overlap each other. Considering the website users can be mobile, and desktop, and other devices, our designers have designed a device-compatible website to deliver a seamless scrolling experience.
See Our Other Projects
crypto
BTC Bazaar
Every Exchange platform has its uniqueness and features. Our client had a visionary Trading Application having remarkable P2P exchange module features which will help to boost the confidence of all the users in P2P transactions. This platform will allow users to register and trade for Bitcoins using Fiat Payment methods.
View Details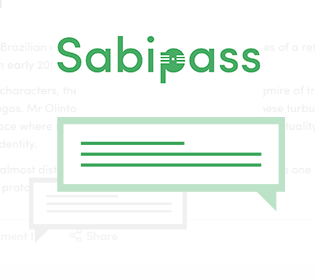 website
Sabipass
Sabipass is a Social Forum where people can interact with the topics of their interests. Can share their views with each other easily. If some user searches for a specific topic then he can come across all the posts related to the particular topic.
View Details