Decentralized Exchange (DEX) Development
We Develop a Customer-centric DEX platform to Facilitate Seamless Crypto Trading
Features of DEX Development
Experience Seamless Crypto Trading on a Feature-packed Decentralized Exchange Platform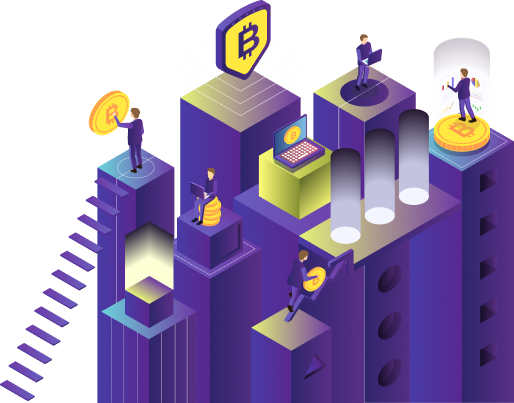 Intuitive User Interface
We develop a self-explanatory and easy-to-use interface that delivers an exuberant trading experience.
History of Transactions
The DEX Application crafted by us maintains and records the complete history of transactions ensuring transparency and accountability in the DEX protocol.
Security
Through the highly secured smart contracts, we ensure the DEX platform developed by us is free from vulnerabilities.
Decentralization
Through Decentralization, we enable users to have full access to their funds and trading activities ensuring transparency.
Multi-currency Support
Delivering multi-currency support, we ensure seamless trading across multiple currencies.
Our Process Followed by Us for DEX
Collaborating Market Standards with our Specially Engineered Design & Development Process to Craft a World-Class DEX Application
Requirement Analysis and Research
Our team of experts understands your requirements and analyzes the best possible solution to meet your business needs.
Design
We have a team of top-notch designers who prepare the blueprint of the application with a thematic and bright color scheme.
Development
The team of developers at RWaltz, craft the DEX application that is embedded with the latest features using Blockchain technology.
Testing
We have a team of quality analysts who audit the application thoroughly and report the bugs to be resolved before the DEX is deployed on an open network.
Deployment
Post testing, once the application is validated to be glitch-free it will be deployed to carry out trading operations.
Post Deployment Support
Post-deployment we ensure 24x7 technical support to our customers ensuring business continuity and preventing system outages.
Top Decentralized Exchanges
We Help You Develop Clones of Top Decentralized Exchanges!

Uniswap

PancakeSwap

SushiSwap

Balancer

Curve

Benefits of Availing Our DEX Development Services
We offer a Bundle of Benefits to Our Esteemed Clientele Through Our DEX Development
Security Audit
We deploy the DEX platform after rigorous testing and fixing of the bugs to secure the funds and user private keys avoiding vulnerabilities.
Customized Platform
We Customize our DEX Development services based on the needs of our customers to meet their business objectives.
Intuitive Interface
We offer a self-explanatory interface for our DEX platform delivering an enhanced trading experience.
Trending Technology
Our certified professionals stay updated with cutting-edge technology trends to deliver enhanced DEX Development Services.
Why RWaltz is the Preferred Choice of Our Clients?
We are on a Mission to Establish Long-Term Relationships with Our Clientele through Our Service Excellence

7+ Years of Experience
We carry a vast experience in Blockchain and Crypto Application Development

100+ Core Blockchain Developers
Our services stand out for phenomenal domain experts in the industry who develop your project.

100+ Successful projects
Our services stand out for phenomenal domain experts in the industry who develop your project.

Serving Industry Giants
We work with the top 1% of the companies in the Blockchain and Crypto domain

24x7 Support
We offer Round the Clock services even after the project is live
What Else do we Offer?
Branching Out Exclusive Services for Our Esteemed Clientele